In the library now.

Earlier on, I had felt lost after running errands at the HDB office near my place.

Was pondering on my next destination, when my stomach decided for me.

---------------------------------------------

To NUS, via Clementi.

Stopped by the Engine canteen for Indian food - it's been a while since I had them.

Yummylicious!

---------------------------------------------

Heading for the library after that; did a random search on the Theses Collection on LINC...

Possessive constructions in colloquial Singapore Malay / Jarrod Yeo Teck Seng.
Supervisors: Dr. Mark Donohue

Investigating the universality of primary metaphors : a perspective from Buddhism / Dennis Tay Zhiming.
Supervisors: A/P Lionel Wee

A genre analysis of negotiation letters in the international domain / Benjamin Foo Zhi Zhong.
Supervisor: Dr. Sunita A. Abraham.

The leader and his people : a linguistic analysis of the National Day Rally 2004 / Ng Boon Min.
Supervisor: Dr. Chng Huang Hoon.

On the roles of dysfluencies in speech comprehension / Siew Wenjie.
Supervisor: Dr. Tomasina Oh.

A genre analysis of parables in the gospels / Jack Choy Kie.
Supervisor: Dr. Peter Tan

A study on children's treatment of more and -er in comparatives / Deborah Chua Fengyi.
Supervisor: Dr. Madalena Cruz-Ferreira.

A corpus-based study of a virtual reality pet community / Cai Yi Tian.
Supervisor: Dr. Vincent Ooi.

Construction of the metrosexual in the local print media / Anson Pang Poh Leong. Supervisor:
Dr. Michelle M. Lazar.

Chinese dialects in Singapore : reversing language shift / by Kevin Hing Ghee Meng.
Supervisor: Dr. Christopher Stroud.

Methods of lexical access in Singapore English-Chinese bilinguals / Candice Cai Shuzhen.
Supervisor: Dr. Lee, Benny.

The analysis of language and visual images : an integrative multisemiotic approach / Victor Lim Fei.
Supervisor: Dr. Kay O'Halloran.

A descriptive grammar of Khmer in the Mekong Delta-Vietnam / Thach Ngoc Minh.
Supervisor: A/P Bao Zhiming.

Singaporean literacy practices in computer-mediated communication : a case study of ICQ messaging / Amilyn Ong May Huei.
Supervisor : A/P Anne Pakir.

The fairprice experience : a systemic-functional approach to the multimodality of a supermarket / Lim Wen Woon.
Supervisor: A/P Ismail Talib.

Exploring spatial deixis in online soccer commentary / Fong Chun Kin.
Supervisor : Dr. Ho Chee Lick.

A few titles did seem bizarre, and perhaps warrant a detailed reading to grasp what the theses are about, but most of the subject matter seem reasonably sensible.

Which begs the question: What is my subject matter?

---------------------------------------------

What is perhaps mildly frustrating is that I'm unable to loan any books out from the school library...

...which had led me to turn to borrowing several Malay grammar books in order to give myself another chance at understanding Malay better.

...which also led me to the Co-op yesterday to browse at the titles on the shelves. Had contemplated buying the Nick Hornby package before I had left for my trip, and decided to check if it was still there. Instead, I stumbled across a familiar name...

...and I left the Co-op a bit poorer in finances, plus Deborah Tannen's new book in my bag.

---------------------------------------------

Started on the new book while on the way back home...

"... Hair is one of what I think of as the Big Three topics about which mothers tend to criticize (or advise) their daughters. The others are clothing and weight....

... Though many women mentioned comments about their clothing and their weight when they told me that their mothers were critical of them, the topic that surfaced most consistently-- and in many ways, most interestingly--was hair..."

Back home, Sis was going to get dinner; spotted by Mum tying her hair by the dinner table, ended up on the receiving end of a lecture about cleanliness and hair...

Hah.

---------------------------------------------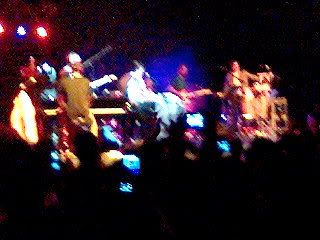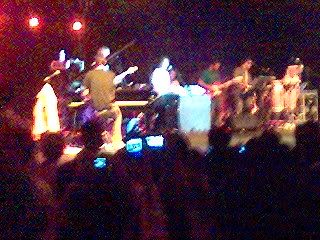 The photos were taken with the phone, which performs quite badly in dark conditions. The one in the centre is Jamie Cullum, surrounded by his supporting crew - a guitarist doubling up as a trumpeter, aguy on keyboards doubling up on the sax, a percussionist and a bassist.



Lousy visual image that can be ignored (and should be; hence the small size of the vid), but he's playing Radiohead's "High and Dry" which got the crowd movin'. Earlier, he had gotten everyone to move to stage front to join up close for the last few numbers.

Damn lucky to have attended the concert.

---------------------------------------------

Should probably talk to Dad soon - Tuition Fee Loan or otherwise? To be independent (at the cost of a loan with interest) or reliance (and interest-free)?

Signing off................... Back to reading Deborah............
RC