More on the weekend then.

Friday

Farewell party for out-going boss. Well, technically, not a farewell, cos he's still boss, but one with a higher title (read: Promotion). LOL.

Headed down to Tangs Orchard after work to get the farewell gift, and then to Lavender to get the mini eclairs and cream puffs from
Partytime
.
Boy, they are one of the best yum-yums I've ever had in a long time. Highly recommended for any joyous occasion.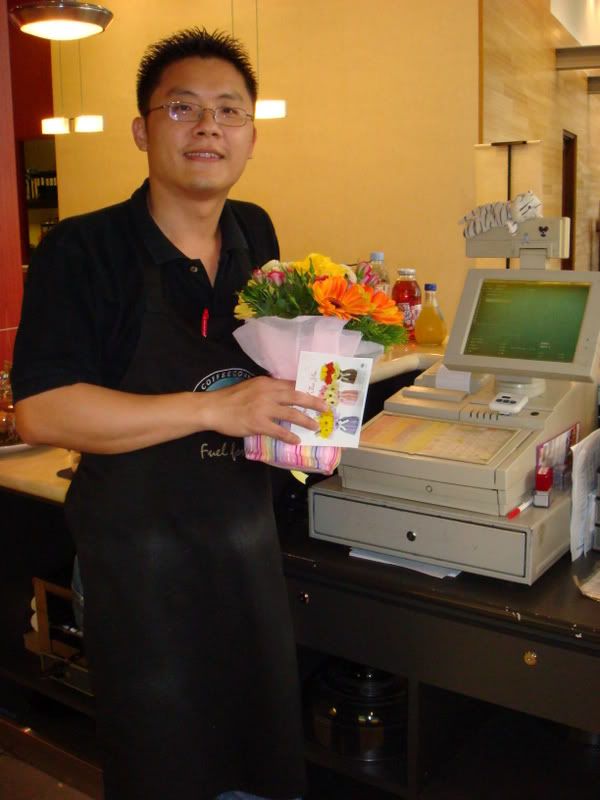 A floral surprise during work
We had a great time after closing.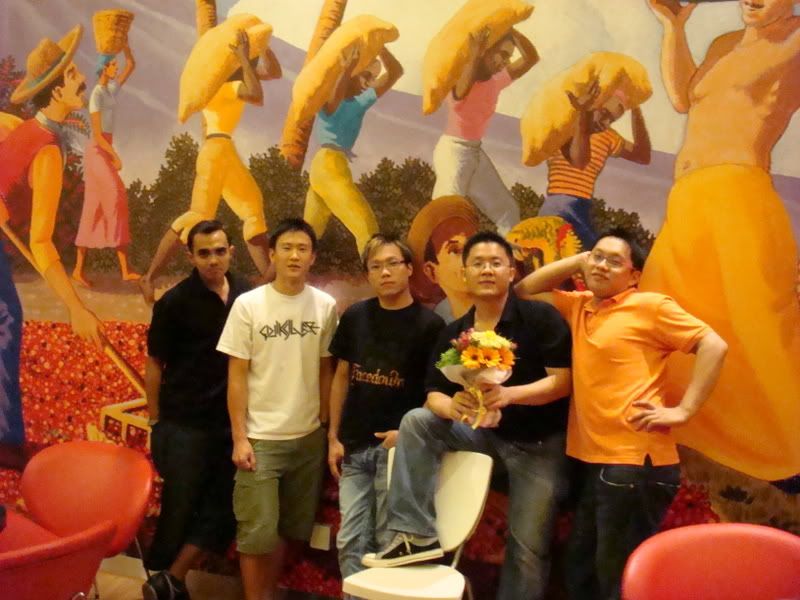 Guys with the new DM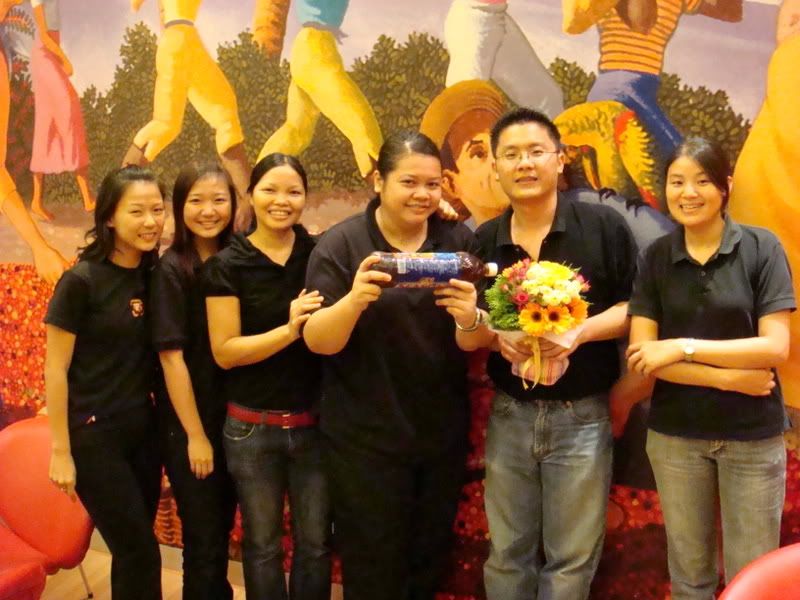 Gals with him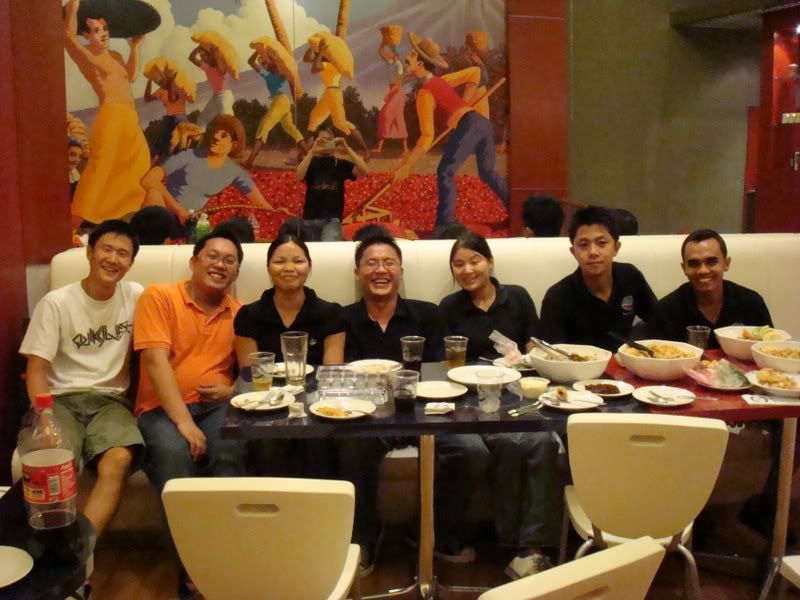 The revamped NU-->S teams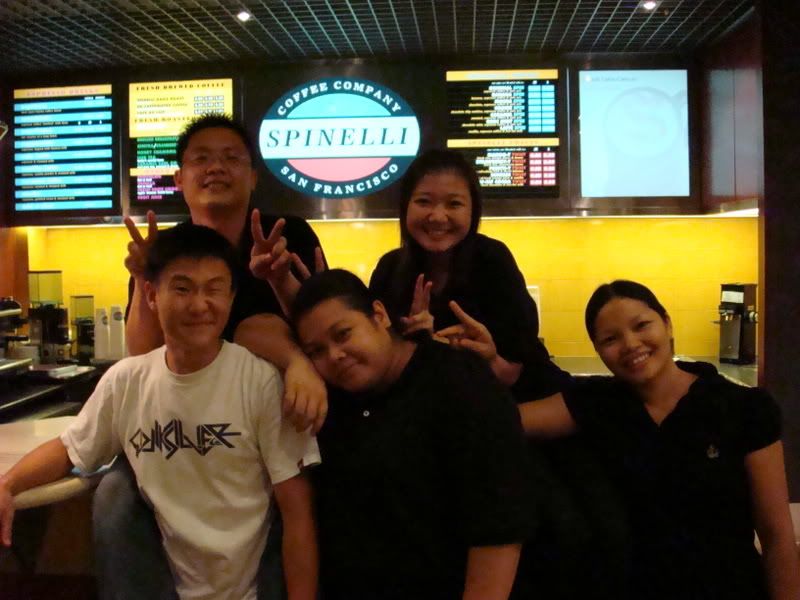 NUS 2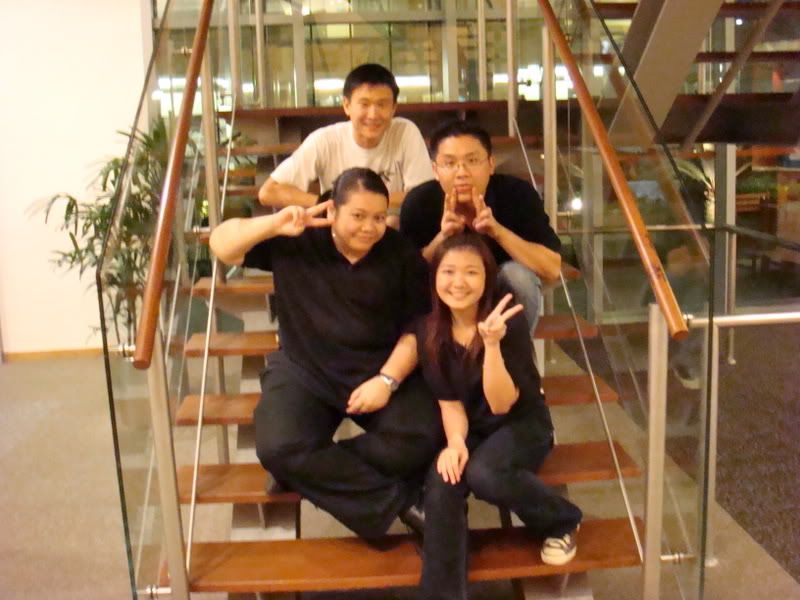 Last PHoto before the cam ran out of batt.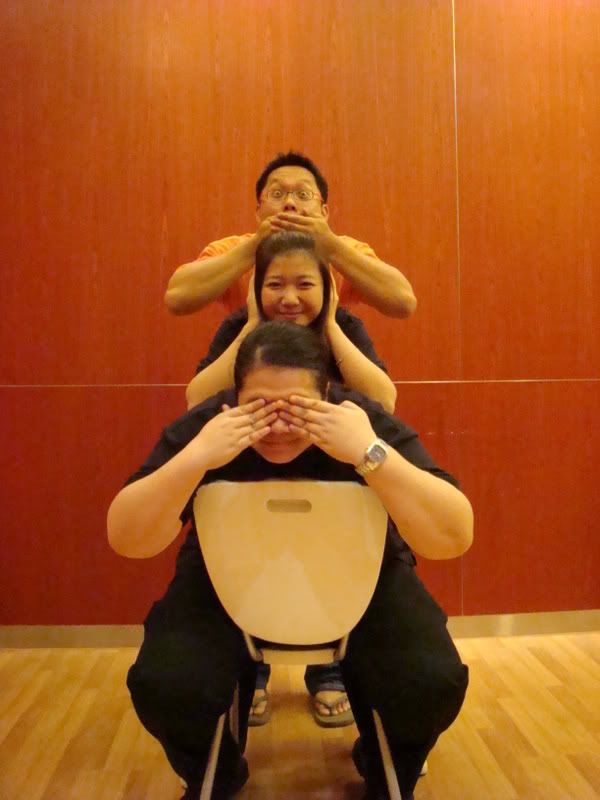 Another version of See + Hear + Speak No Evil (Did one in Italy - this is the SG version lol)

Somehow, after exactly a year, my work life seems to have gone a complete circle. The one who had interviewed me is back, I'm starting work with a brand new team, and all my mentors have been reassigned. It's been a great year at work, might probably be my happiest stint working so far and for a long time, and I'll surely dread the day when I have to leave. Yet, it seems that I'll need to give this up in order to move on... I've never imagined that it'll be so tough to let go... but then, letting go is never easy.........


Group Photo - Most treasured

------------------
Saturday

Warm nights are never great - I could only sleep when dawn had arrived.

The Trio met up for dinner @ Suntec Mouth Restaurant, then chilled at Gloria Jean's. Dinner was superbly sumptuous and over-filling, but GJ's left much to be desired. Passed the Italian postcards and bookmark to ZW, and the chocs to both of them, but forgot all about the lemon sorbet thingy! So SOTONG! (

'_____________' """

)

The evening flew by before I had even knew it, but we made plans for another gathering in the near future. SING! =D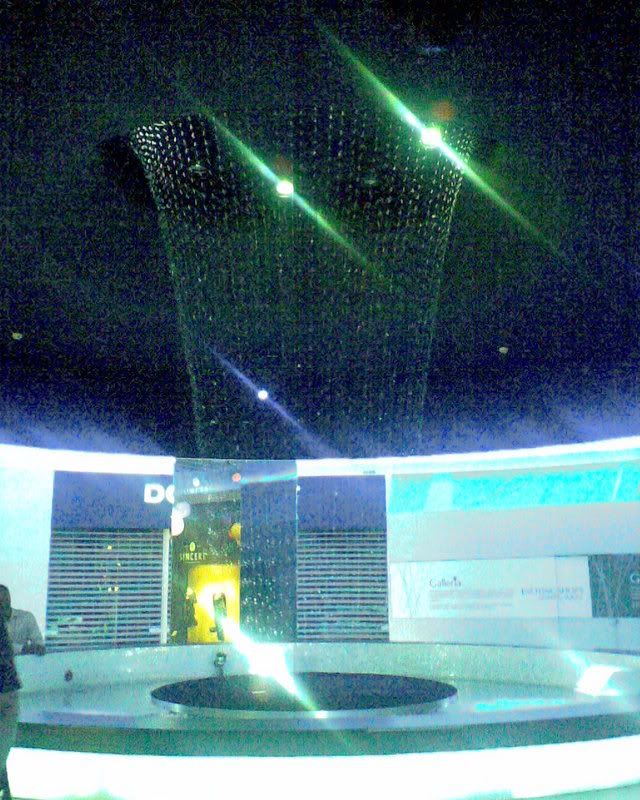 Fountain at the New Suntec Galleria section (where Marche used to be)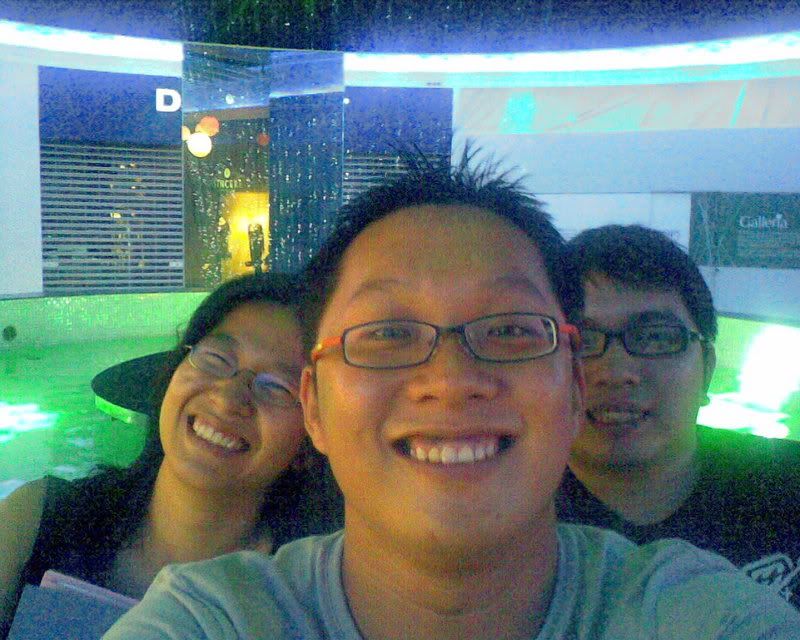 The Mandatory Group Pic (The background makes it look like we were in some club eh?)

Stopped by Clementi on the way back to catch the Pool match, since the last bus had already left. Mr. Dependable choked and gave away a penalty 6 mins before full-time, bur Captain G saved the day yet again by banging in the winner a minute later. Big PHEW!

------------------

Sunday

It had worsened - bedtme was 7am.

Headed towards ECP to meet the two gals in my section for some bike action before the (Surprise) BBQ...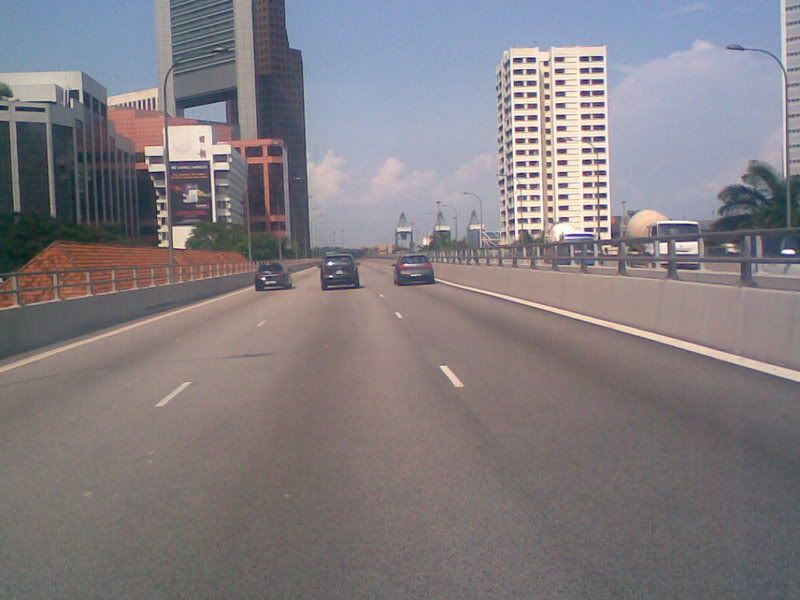 AYE - Near Keppel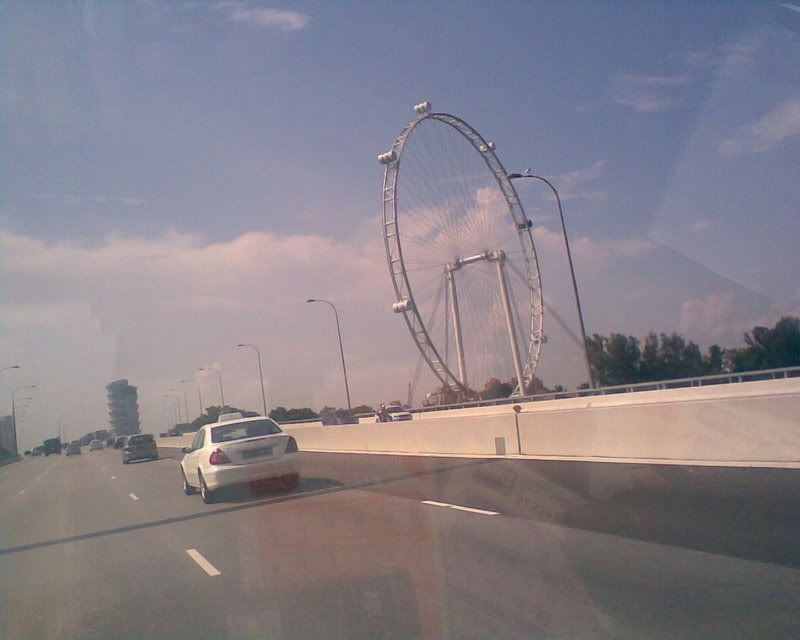 AYE - Singapore Flyer (They are in the midst of installing the cabins)

...but ended up not biking. Fate seems to have decreed that there's no easy way for me to get/do the things I want.

Then the unimaginable happened - it rained, albeit for just a while.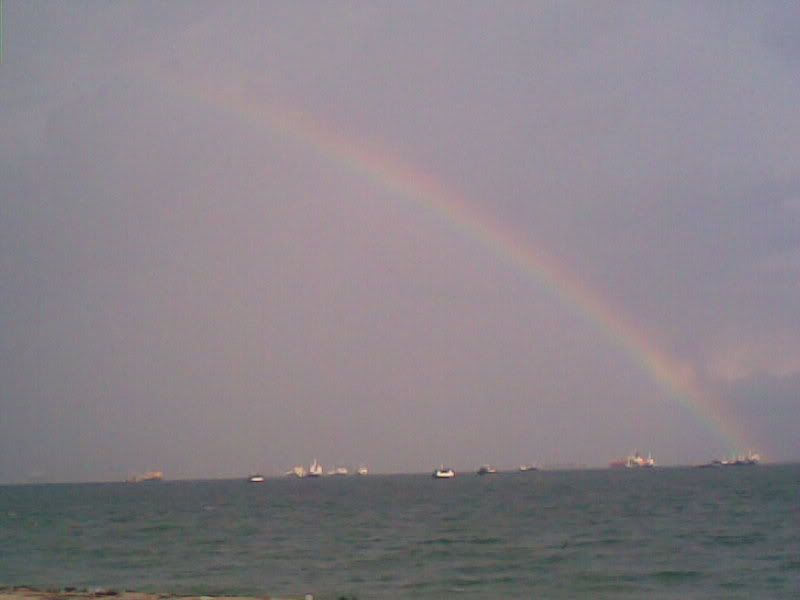 Faint rainbow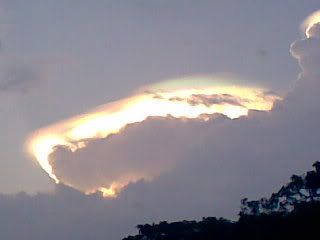 Some weird phenomenon - strange lights beneath the clouds - probably due to the weird weather.
Some really strong and lasting fire that ensured the spare coals were left untouched.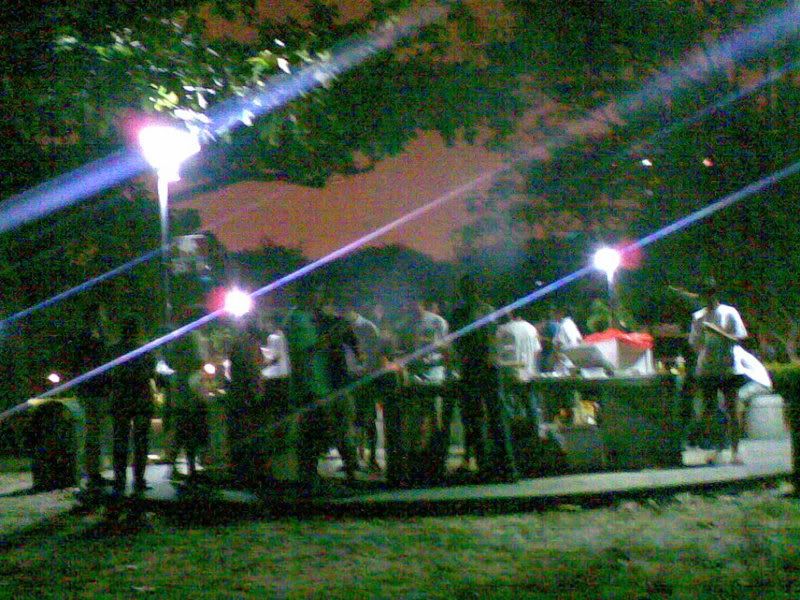 I guess everything turned out fine, despite the passing showers in the beginning and towards the end. It was a pretty hilarious sight on board as two hunks and a lass packed themselves tighter than a can of sardines into the front seat. A bonus: an impromptu 60% section supper @ Al-Ameen.

Came home to find that RongC Dreamers are at the top of the Thugs Championship mini-league for the first week of the Fantasy League. Well, at least I have a week of boasting rights hah.

------------------

It was almost awesome.

And then.

So, I guess in a week where others share a new beginning (congrats =D), for some things (like this post), for some people, It Ends Tonight, in more ways than one...........


When Darkness turns to Light
It Ends Tonight, Ends Tonight....
Just a lil' insight won't make this right
It's too late to fight
It Ends Tonight...

Signing off.......... Punk-Funk-Rock - the sun's up............
RC