Must take down music liao!!!! License for one song is $1000!!!! SIAO! No more Jimmy Gets High..... or any other music..... drats; just when I had finally learnt how to put up music on my blog....
Friday is my free day this sem; the next decision is whether to have another free day (if I drop EL as a World Lang) or stick to the four-day week (if I drop Narrative Structures). I had been decidedly against keeping NS, but after the first lecture, I was drawn to how I.T managed to present a most interesting lecture for quite some time; the amount of videos and other stuff (rap included! HAH!) included easily exceed that used by several EL mods combined. Gonna try sitting in World Lang on Tues before making a final decision.
On the other hand, I finally handed in the ISM contract. No draft, just final copy; in contrast, BY went through several revisions with VO (V-ny the Vamp haha, thanks to Nala) before submitting a six page proposal. I begin to worry; worry at the freedom that my sup has given me ("You can do whatever you want"), at the lack of information, at the collection of data... and even my sup knows about my MA application (meaning the whole Dept might have gotten wind about it over the past few weeks), and advising me to talk to a potential sup --> does that mean I'm gonna get the MA? Hmmmm....
And BY confided that the final grades for a particular module were moderated after some Agency and the lecturer had a meeting; initial grades were supposed to be lower (revealation that some had actually failed).... meaning one of my grades ain't as high as it has become... eeks...
After contract submission, I went to meet Dear for our Chinatown trip. Finally the rain decided to take a break! Had our late lunch at Maxwell Food Centre; Dear's char kway teow was not too salty and nice (served on banana leaf), while my Chicken Rice was ok (Is Heng Heng Chicken Rice the famous one in Maxwell?). After that we went to check out the festive market; Dear bought some Japan cuttlefish, which was quite nice. We also went on a sampling treat of melon seeds; green tea, soy souce, five spice. The stall that we smapled from was featured in the evening news cos the young ppl working there were having their waiting-for-results vacation. We also went to check the Bak Kwa prices and sampled Bee Chiang Hiang bak kwa; Beef tasted WEIRD, and the minced prok flavour was best, soft yet fragrant. Witnessed for myself the Lim Chee Guan queue, and making the next-door Fragrant (Xiang Wei) brand and its staff insignificant, despite having a floor space that is at least twice as large as LCG. Tasted Fragrant's goods - pales in comparision.
Proceeded to take bus to City Hall for dinner; had BK @ Raffles City (MOS opened a new outlet next door). Went over to the adidas shop @ Citylink to redeem Dear's voucher. SO, someone ended up with a new pair of comfy and feminine slippers and a pink top to add to the expanded adidas collection =P Took 502 home; the wait was treachearously long, and the new route was horrendously long as well (prob because of the going home crowd, but then why promise it will be faster?); consequently missed Love Concierge for the second consecutive evening.... both of us ended up snoozing in the crowded bus...
Going to bath le.... WAIT! Rachel's in the papers!!!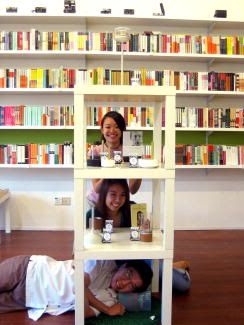 Tuesday's edition of TNP, with her fellow partners of Books Actually
"No Da Vinci Code for them
THEY are three voracious readers who have not read The Da Vinci Code!

The trio of 20somethings - (from top) Karen Wai, Rachel Chee and Kenny Leck - are passionate about literature, avid collectors of serious fiction and love reading so much that they set up BooksActually a month ago.

Even their name cards are storied - a bookshelf on one side and a 'Once upon a time...' introduction on the other.

BooksActually is the upstairs part of a cafe in a shophouse (125A, Telok Ayer Street) and the shelves are propped up by 1,300 titles. Not one book spine says Dan Brown (Da Vinci Code).

'We stock serious fiction,' said Kenny, 27, whose studies were in accounting.
Just how serious, well, Louis-Ferdinand Celine, Knut Hamsun, Collodi, hit your bookmarks yet?

The three friends - Karen, 21, graduated in film-sound-video from Ngee Ann, and Rachel, also 21, is reading history in NUS - convinced their parents they were dead serious about turning their love of the printed word into a business.

Our parents have always assisted us with money, they said.

Brave new minds, going up against the heft of Borders and Kinokuniya.

BooksActually has dedicated suppliers from the US as well as the three big distributors here (Penguin, Pansing and MPH).

'We compete on branding, not on prices,' said Kenny.

Customers place orders which are filled in four to six weeks, at cover price and with shipping fee, no extra charges.

Situated in the CBD, the month-old cosy unit attracts office workers and creatives from ad agencies.

- Sylvia Toh Paik Choo"
Wah on papers leh... shall visit the shop with Dear one day, and soon; thanks to Rachel's X'mas gesture, I have a $5 voucher from Books Actually!!! Hehe....
Signing off................. End of Year 4, Sem 2, Week 1..................
RC