When: 27th Jan 2006Where: Settlers' CafeWhat: EL Hons Outing (entry

here

)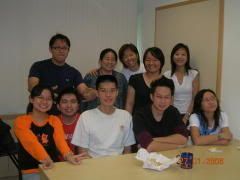 At Hons Room - After lunch, before we headed for Holland V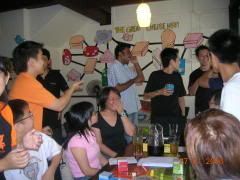 Cranium time!!! FUN!!!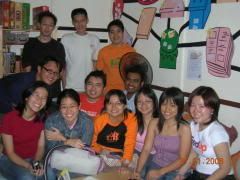 Group Pic before we left
When: 8th Feb 2006 Where: MPSH6What: Red Cross Blood Donation Drive with Zhongwei
After the GEK1500 quiz, ZW jio-ed me to go donate blood (someone was a first-timer keke)... Went to MPSH 6 at SRC. My last donation was 3 years ago! I didnt even realise it was that long. The wait was quite long, but the actual donation was pretty swift and cool.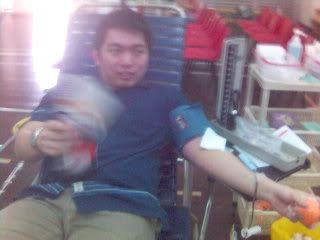 ZW giving it his all
After donating blood - still in the pink of health, what's there to be scared of?
Since my last donation, it appeared that HSA has aestheticised blood donation into something less intimidating and more fancy. How? You no longer can see clearly how thick the blood donation needle is; it has been concealed in a plastic-like thingy. They also gave stress balls that are in the form of a mandarin orange...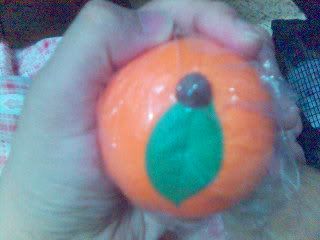 Mandarin Orange; by right they should give 2 hor? Where got ppl give one de... and it looks to me like something OTHER than a Mandarin Orange, esp the short brown "branch-stump"... keke...
And above all, they have this new bandage that they wrap around your elbow where they have taken your blood; this feature is bound to earn you queries from anyone and everyone, and i suppose you have to proclaim loudly and proudly: "I went to donate blood; nice ain't it?" And so coincidentally, we both got bandages that matches the colours of our attire!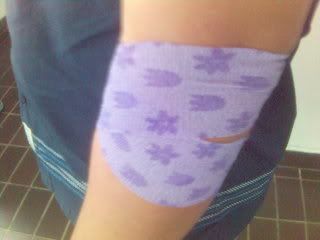 Zhongwei's Purple bandage (he was wearing a dark blue top) - he said he rather get some other colour like blue...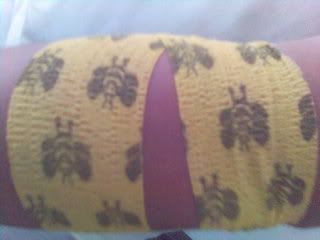 My Yellow bandage with Bumble Bee patterns =) I was wearing a light yellow top that day
Zhongwei talked about demystifying the concept of blood donation, and I agree. There was this exchange student from Aussie who was chatting with a local gal; and he commented on how peculiar it is for SGeans not to be pro-active in donating blood. When I (over)heard further from him that he had not seen 'served' with local aneastheasia before, I went like "What?! How to tahan the needle poking into your vein? It's a priviledge for us to be given something that numbs the arm, masking the pain that would be otherwise felt. One heartening fact though was that there were roughly equal number of donors from both sexes (now I dunno which word to use...).
Signing off............ Donate Blood, Save Lives........
RC