Inspired by Vernice =D .... An analepsis of Photos and Montages - its the order of the macro-events that are analepsed though, the micro-events are still chronologically arranged haha......

Starting from Monday's (15th May 2006) Lunch outing.......

--------------------------------------------------------------

Flashback (1) : 15th May 2006, Monday, 12 days since my last paper............

Event : Lunch-that-was-supposed-to-be-in-school......

Before Lunch, Philina, Mark and Keith were trying on the graduation gowns in the Co-Op....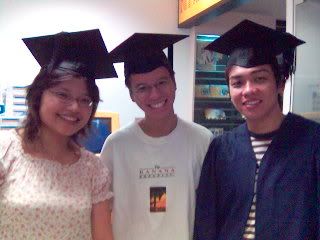 Best of da Best hor, dun pray pray.....

After that, thanks to Philina's wheels, we decided to have lunch outside school - we went to pick up LAPD, and headed for Harbourfront for some Sushi......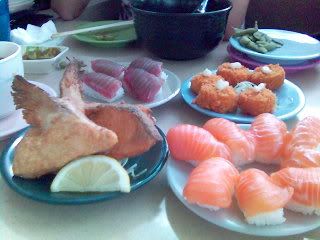 Food GALORE!
We ate like 40+ plates.... first time in a long time that I've eaten in a group where we exhausted the dessert quota... the Mochi Ice-cream dumpling turned out to be not too bad, much better than those Taiwanese types that were selling during CNY - of course, the ice-cream filling was THE difference hehe.....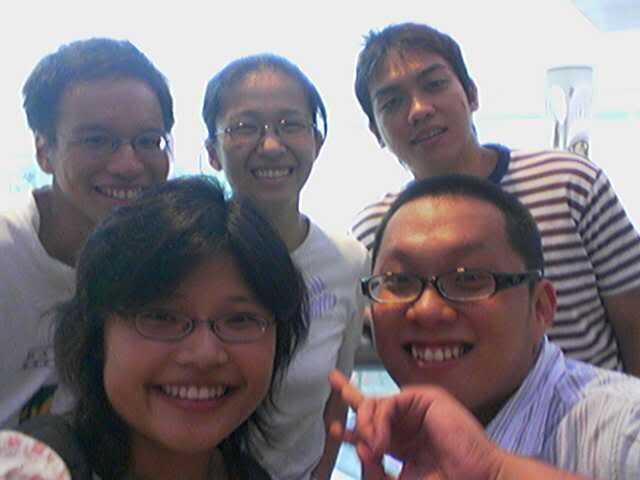 Before we left, we were us..........
(Yes, that's my new hairstyle...)
After that, I met up with Jenn at Esplanade for makan - there was only room left for more dessert haha; coconut ice-cream with red bean paste at ThaiExpress. After that, it was Harry's - Jenn's treat of a pint of Tiger draught rounded up the day....

Missed the last 99 at Clementi and had to take a little detour to get home, which included a bus I seldom take and a short taxi ride...........

--------------------------------------------------------------

Flashback (2): 11th May 2006, Thursday, 8 days since my last paper..........

Event : Lunch Outing with MD

One of the last times in a long time that some of us are going to see MD.......

Lunch outing at this Indian restaurant at Ocean Towers.....

Met up with some of the peeps + MD in sch, then took bus to Raffles Place to meet the rest......

Lunch was pretty cool, except that the seating arrangement meant that I couldnt hear what the rest were chatting with MD most of the time.......

And my food arrived last! Grrrrrrr abit..........

ATTENTION! First Montage of the post.......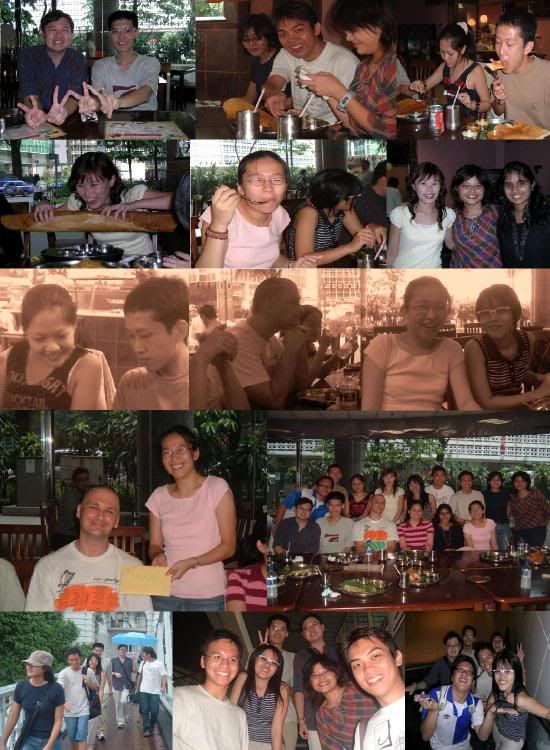 Look at Jackie devouring the HUGE dosa!!!!
(Montage possible courtesy of photos from LAPD's & Philina's cams, as well from my K700i)

And of course, I couldnt resist taking a pic with MD.....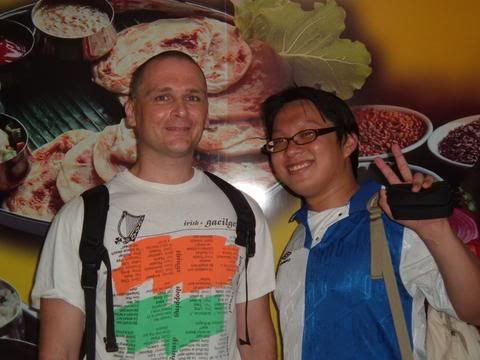 MD and Ugly

After the lunch, the group scattered - some of us went to MS for more drinks + chat.......

Class finally dismissed at around 6pm..........

--------------------------------------------------------------

Flashback (3) : 8th May 2006 (Monday) to 10th May 2006 (Wednesday), less than a week after last paper.........

Montage of the First day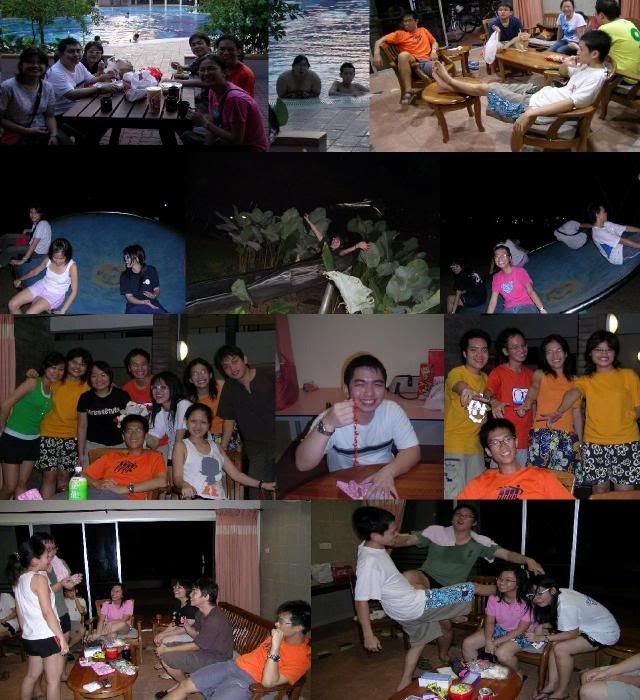 Happening leh.......
Montage of the Second day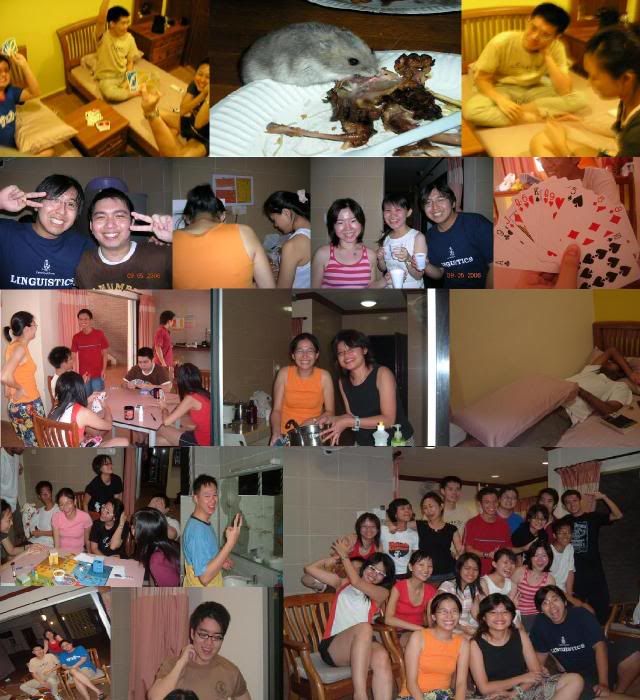 Even more happening...........
This time, the BBQ was slightly more successful.... look at the crowd who attended this time round!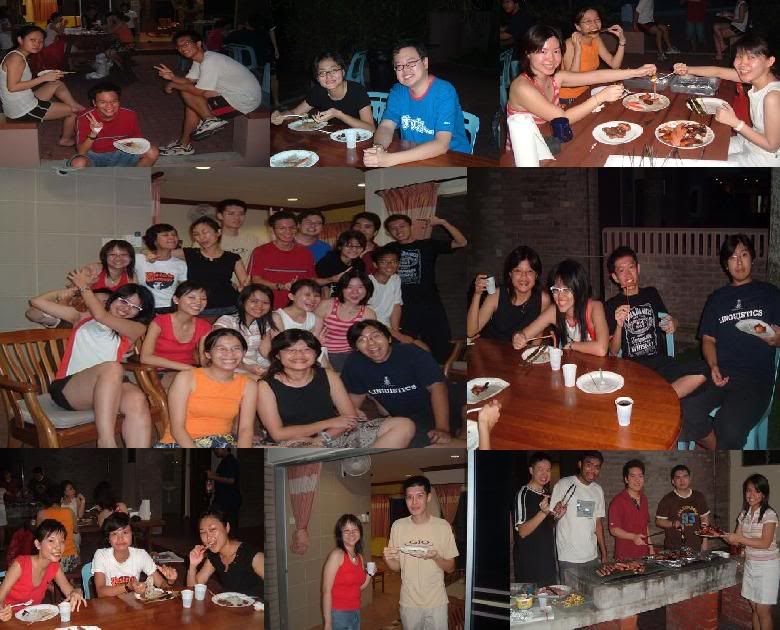 Everyone appears at least once! =)
(Except for Derek - I left him out due to carelessness; sorry!!!!)
After the BBQ and Cranium session, most of us were quite zoned out........

And it was left to the third day.........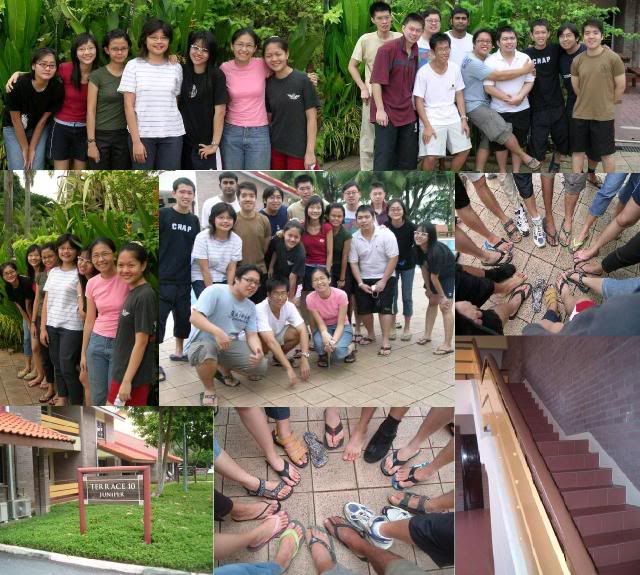 Memories of our last hour @ Chalet

The above montages are courtesy of photos taken by Philina's, LAPD's , ZW's and Sarah's cams. =)

And of course, I took some pics - most of them were taken when we had been out cycling before returning the bikes.........

And FINALLY, I gotten the chance to visit part of the playground and the beach! Montage of some of the pics taken by my K700i......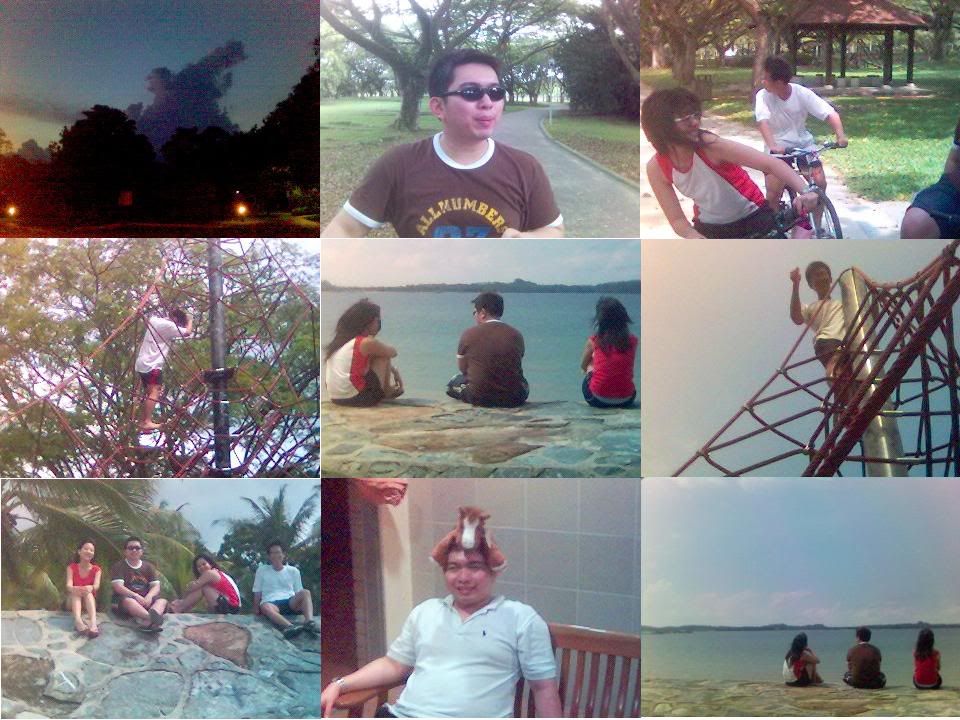 My fav - the Bottom Right pic =D
OK! Finally done posting photos and montages; anyone who wants photos, just let me know.......

--------------------------------------------------------------

Buay Tahan already! Shall head out now..........

Signing off............... Da Vinci Code - Tml evening peeps..............
RC