Bwahahaha........ Apprentice's returning in early Jan!
Woke up and checked the phone... saw 2 SMSes; one form the Dear, the other from my ex-employer... notifying me abt pay issues... I went to the Internat and checked the electronic version of my payslip...

My year-end bonus!!! It's coming in!!!! Yeah!!!!
Compared to wat I had received earlier...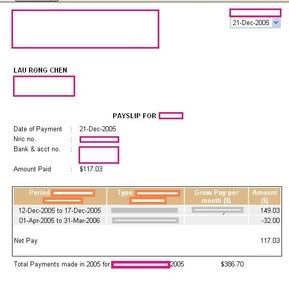 Now I know why I got lesser pay le...
Ok, good news over le... I'm going out! Looks like it could rain later....
Signing off............ 2005's gonna be over soon..........
RC