Dear and I kinda started our celebration yesterday; we met up yesterday evening to have dinner - proceeded to the Sakura outlet at the Omni-theatre. There was already a small crowd building up, and upon paying for the dinner, we were assigned to a small table in one corner. We went to scout around the various food sections to check out what we should eat first.
First round was a few teppanyaki dishes along with salmon and tuna sashimi. Subsequently, we went on to try some of their other stuff, though we didnt try them all. The dim sum were quite bad; the chawamushi looked dry and the bowls felt cold; the cooked food, we hardly touched for fear of being too full too soon. however we did try some of the tempura and it was not bad. The teppanyaki had hits and misses; the salmon and chicken were better than the other teppanyaki stuff. The dessert section was quite decent, with alot of mini-sized cakes, and some weird looking jellies.
We stayed for slightly over 2 hours, taking our time especially towards the end. The next time we try Sakura will probably at another branch, but it was quite a nice experience =)
Today we met up amidst the hot weather. I was already sweating before our date had already began. I initiated a train ride because of the intolerable heat, and we stopped at Tiong Bahru for a short lunch. Had this steamboat lunch set at this Rajah Inn shop. It tasted not too bad; Dear enjoyed the oomph that the tom yam soup base had provided, while I find cooking meat in soup doesn't taste so bad and unhealthy- after all, meat not be always grilled/BBQ-ed to be nice...
We were just probably quarter of an hour early for our show "Casanova"; the long wait and the amount of travelling probably took its toil on us - we slept thru the first 5 mins of the show. Nonetheless, Heath Ledger is pretty well-looking, clean-cut features, though he seems too nicey to be Casanova. Overall, not a bad show, though I'm still not really used to watching such shows - shows that are set in Europe in the 17-19th century, men with wigs and tight pants, woemn with corsets.
Oh one more thing; the film seems to be subtly parodying the state of the Roman Catholic Church during the mid 1700s' - declining in influence, people who misused the power that came with the Pope and the Church, unable to stop what had been viewed as the decline in social morals...
After the show, we went back to Tiong Bahru. We had originally wanted to go Jurong West to have our haircuts, but after squeezing with the evening crowd aboard the train, the stuffiness was unbearable and we alighted at Clementi. In the end, we decided on cutting our hair at this salon near Video Ezy. I went from this.....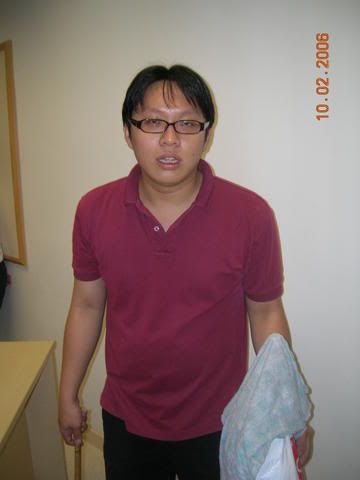 ....to this....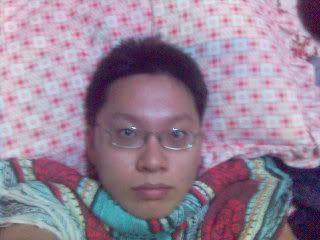 ...and this....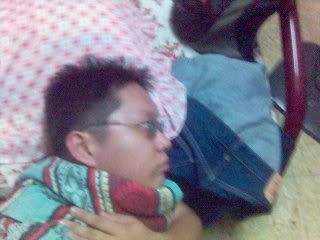 Hmmm shall put some styling stuff tml to see the effect...
Meanwhile, someone has just finished dyeing her hair... shall eagerly wait for the time to come whereby I can see the effects keke.....
Signing off........... 72 for GEK1500 - neither here nor there.............
RC