- I can't remember what I had typed the night before, after they were wiped out by technical faults -

Oh yah, following Sunday, it's time to be even more grateful to more ppl. Here we goes:

Thursday
OT-ed. Then headed to AS7-AS5-CFA. Met up with Nick, Yokes and Shan - headed to NYDC for makan after some deliberation on my part. Met up with Z-x at the eatery and had yummy baked rice and FANTASTIC, MOUTH-WATERING desserts! I simply loves mudpies!

But nothing beats the line of the day:

"I cannot see BREASTS, but I can see BOOBS!!!"

WS really like a zoo - all sorts of animals around. Haha!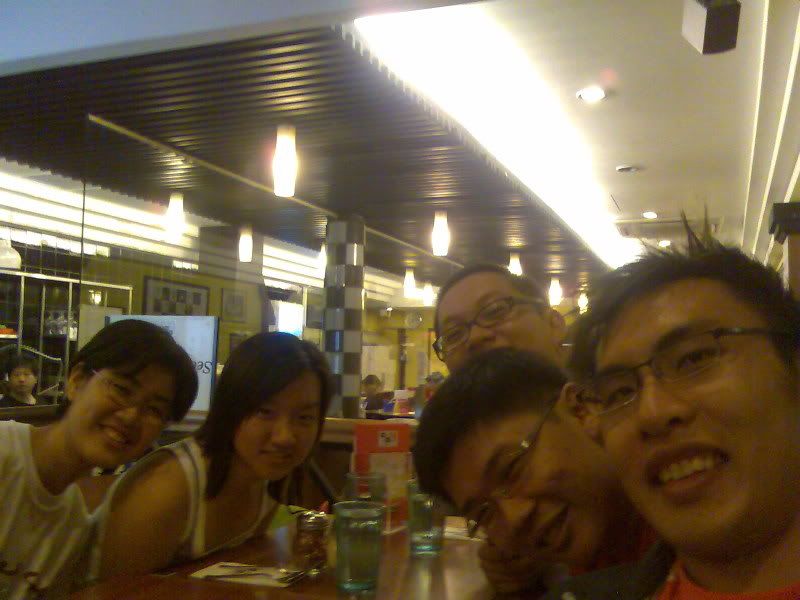 Thanks ppl for the treat!

Friday
Thanks to Bro, I didn't arrive for work any much later than late.

After Syntax, the few of us (QZ, Naga, Philina, Keith, Mark) headed to Tong Shui Cafe for (early) dinner. Had Nissin noodle because of a silly craving + laziness to get my hands dirty cooking it. Chrysanthemum tea (iced) was heavenly given the hot weather, and Durian on Thick Toast was simply YUMS-YUMS! Thanks to everyone (I don't know who's the organiser this time)! Two consecutive dinner treats!

Plus, finally get to know what Pred. Log. is finally about - well, some of it at least. Nice enough of Butler to review the topic before we get our hands dirty on the assignment. Finally there's once when I didn't fall asleep during 5200!

Saturday
Holiday. Headed for Naga's place after a heavy brunch of instant mee.

Met up with Galvin at CCK, then saw QZ and Boo at the carpark. Went up and was treated to Naga's newly renovated place for Deepavali. Was treated to home-made snacks and MURUKU (!!!), plus a very hearty, mouth-watering and heavy lunch of rice, mutton curry, sambal prawns, grilled wings and drumlets, veggies and crackers. Caught this weird comedy Napoleon Dynamite, though there wasn't anytime for Naga to show us his all-time favourite movie haha. Next time perhaps.

Went off just before the Wigan-Man City match started. Mentally debated about where to go next, before decided to pop by JP.

-------------------------------

It's been a week lined with great moments.

Grind-and-mill resumes henceforth.

Signing off............ More than I ever wished for..........
RC