An afternoon of excessive elaborate decorum.

Its glad to chat with these people again, people whom I'd spent a year, some a little more than that, together, on the line of duty.

Its surprising that the man who had been my initial 'Encik' actually remembered my full name. And I hestitated to greet him back because I didn't know his current rank. (Later I found out - he has moved on a few ranks up since the last time I had seen him.)

Think we just made a mess out of that place, the few hundred of us. LOL.

Bad news - Something big's brewin' up in September, bigger than what we had probably experienced (except, of course, the biggest experience that we had gone through during active times).

-------------

After the afternoon had drawn to a close, a bunch of us headed to Bishan for KTV.

When a group of 8 guys come together for KTV, one can expect few songs with women as their original singers.

But it was fun nonetheless.

In particular, a song about "blowing horns" had the whole room burst into laughter; we couldn't leave the "blowing horn" innuendo behind till we left.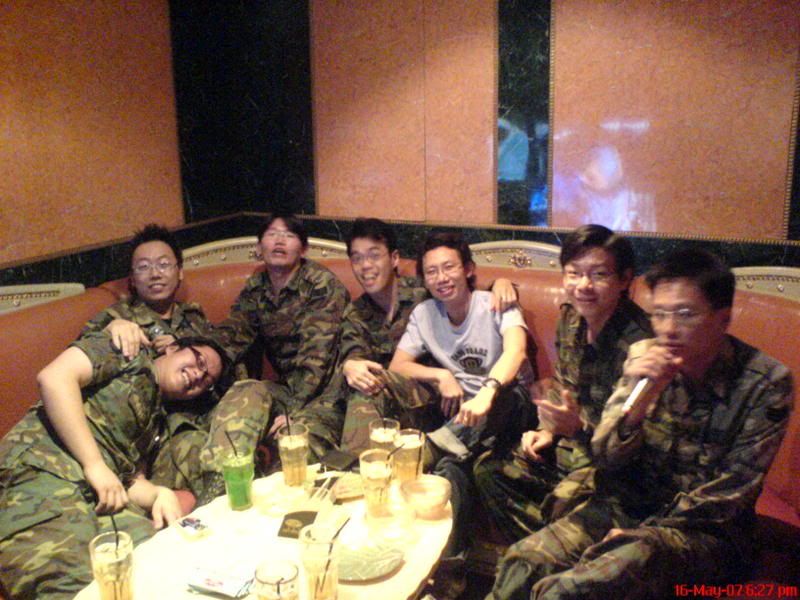 Good times spent with good people.
A prelude to bad times then.
-------------
Giam, the best man who's on
Youtube
searching for vids of old songs, sent me this best vid:
Wind of Change - Scorpion
Found another of my fav long long time ago, and still is one of my fav:
Time - Tommy Page
"Time will always heal the pain, bring the sun, and dry the rain..."
How much time then?
Signing off................. A coffee-free day..............
RC